Interview with a one-man modelling company
Coming back to scale models, we should take a look at an enterprise producing mostly Vietnam related kits. To make it more interesting, this small company, BRAVO-6 (a suggestive name, for sure) is the work of one man, Vladimir Demchenko of Russia, but his products are well-known among modelers all over the world. Now you can read an exclusive interview with him.
Please note: this interview was originally published here in Hungarian. As it may be interesting to foreign modelers, as well, it is hereby published in English, too.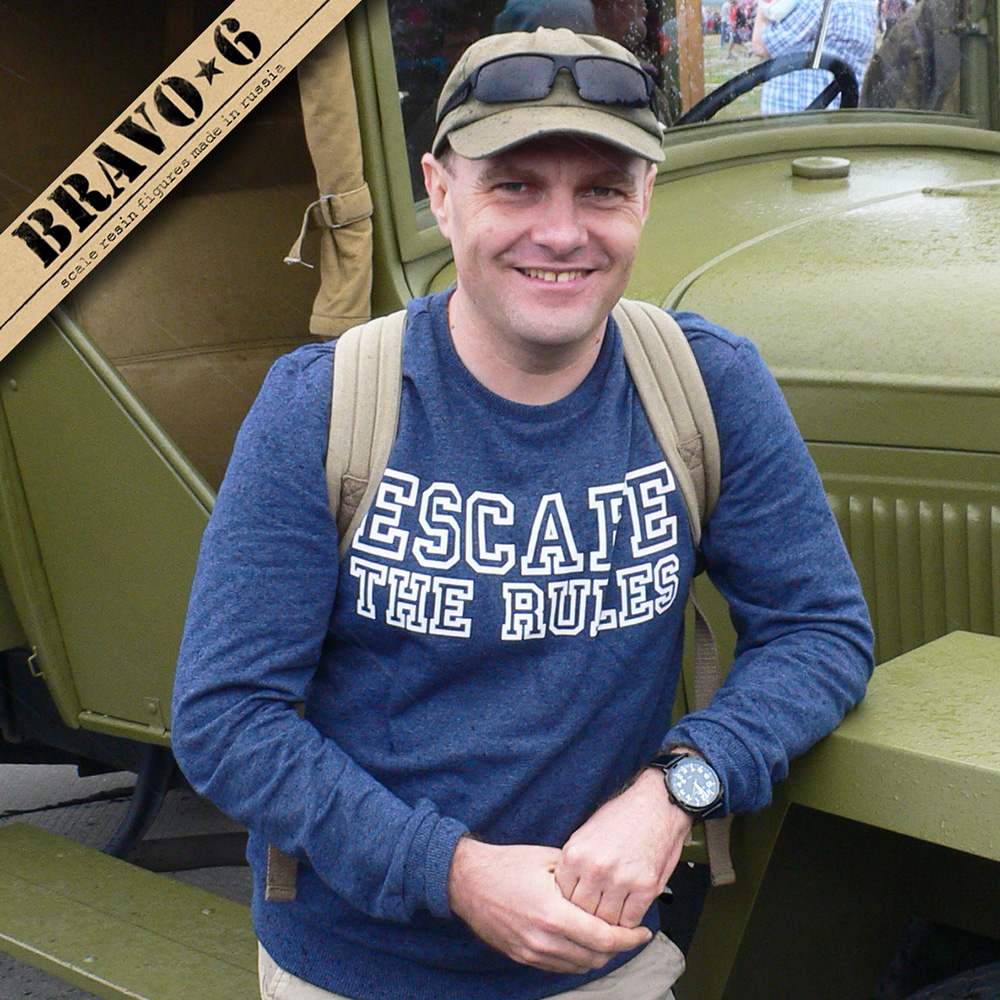 How did it all start and what was your motivation to do Vietnam War model figures?
Although I got started as an aircraft modeler in the late 1980s, I was always interested in the Vietnam War. I can remember two main key points that turned my mind then: the first was the Oliver Stone movie, 'Platoon', the second was a Verlinden catalogue that I occasionally saw in our local modeling club. After that I had no doubts about my future!
In the mid-1990s I seriously began to work with dioramas and vignettes. Of course, I wanted to concentrate on my favourite theme, but as you remember, the range of Nam figures was so scant those days – I can remember just old-fashioned Verlinden figures and some Dragon kits. So I was haunted by my old dream about a wide and interesting range of Nam figures.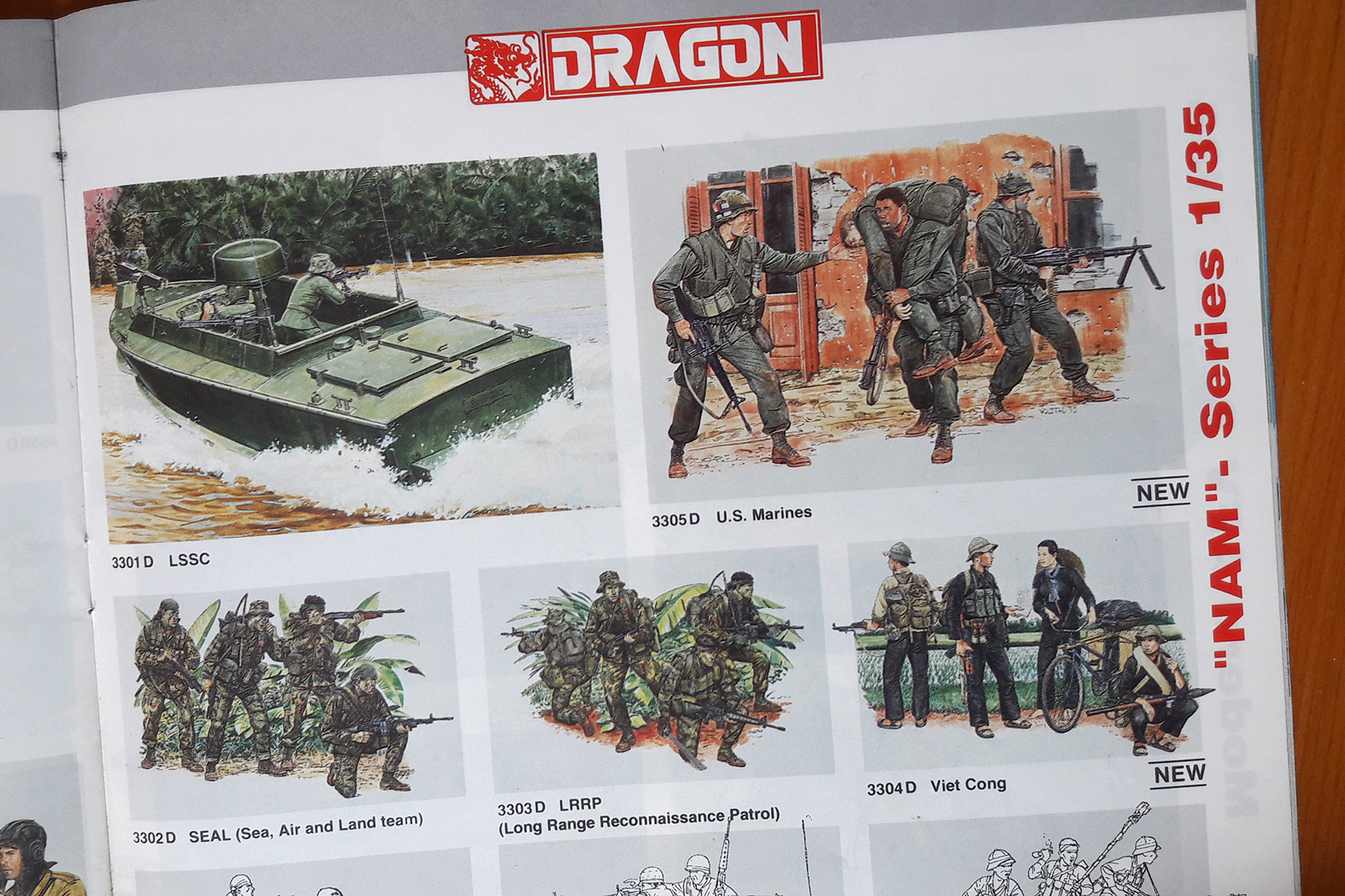 Just a glimpse at Dragon's "Nam" range 25 years ago...
When did you start BRAVO-6? 
My BRAVO-6 project was started in 2008. Of course, the first figures became 'Platoon' characters as some little tribute for my favorite movie. Later I turned to other movies and eras (like John Wayne from 'Green Berets' or the 'Fury' tankers).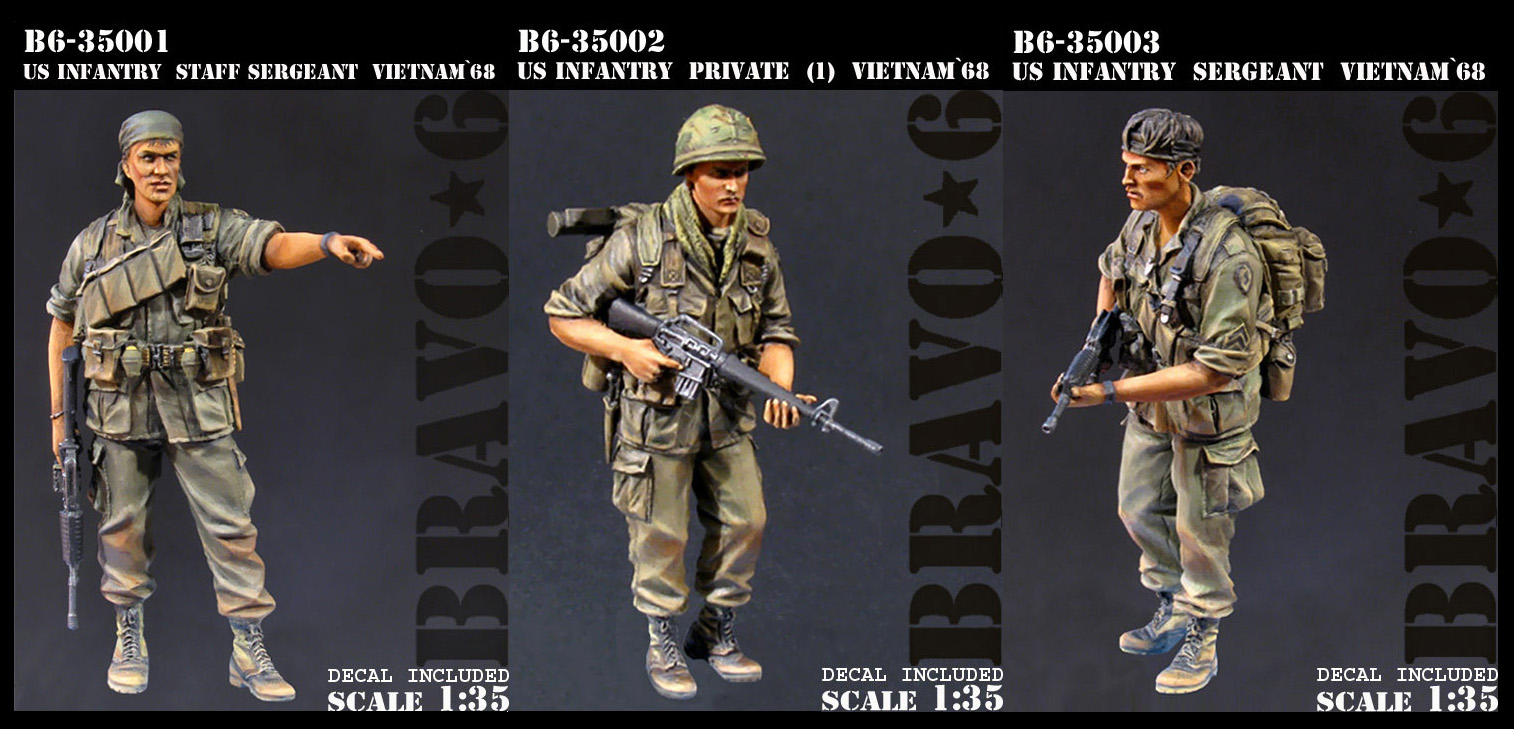 The main characters from 'Platoon'. If you don't recognize them,
you probably haven't seen the movie.
How do you choose your future products? What is the process of making up a new kit?
Initially I started out as a diorama builder and my attitude is based on this way of thinking. For example, some companies make figures as addition for AFV models or vignettes, but I prefer to do figures that are parts of a bigger composition, although they can work separately as well.
Of course, the Nam theme is not so popular as World War II and I understand that my figures will not sell as well as German tankers or SS-men in winter uniforms…But I love my choice, it's my way and I believe in it! Sometime I can sculpt figures for other periods – the Indochina War or World War II. Especially, if I can find interesting photos or nice and funny ideas. That gives me new impressions, freshness of different shapes, uniforms, faces and haircuts.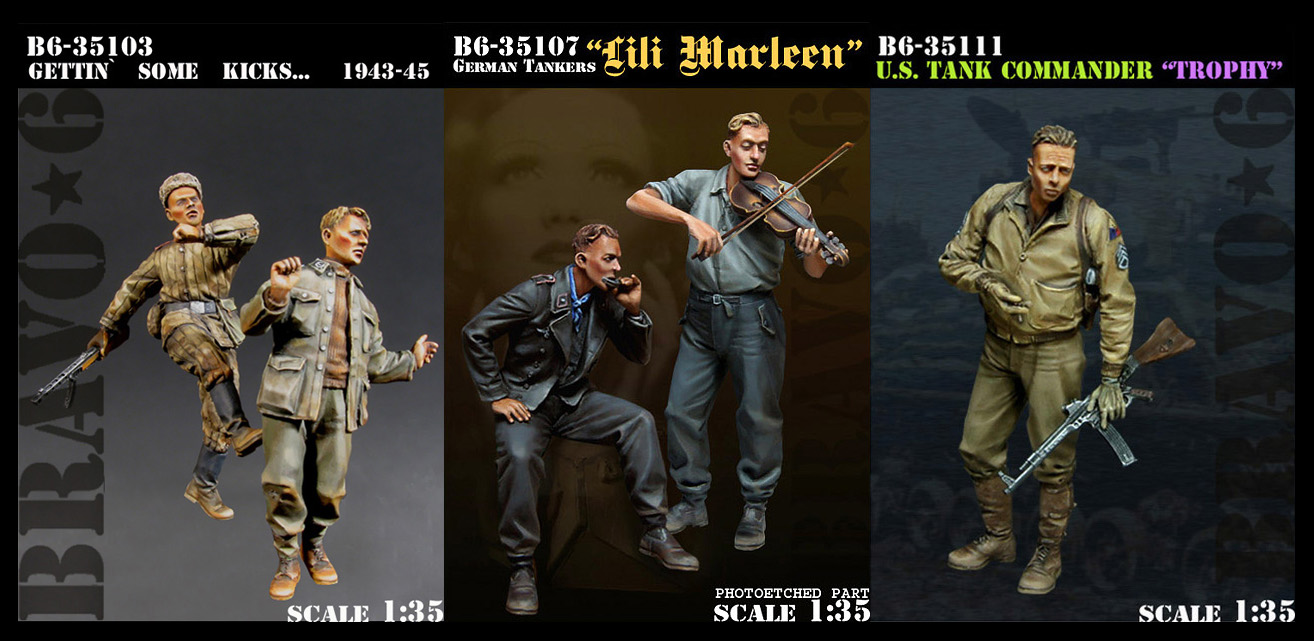 World War Two figures
What sources do you use? Do you photograph live models wearing authentic uniforms or use only original pictures?
My main source for info and inspiration are books and a daily growing collection of photos. I like to go through them, find interesting ideas, poses, details, drapery and faces. The mixture of all gives me a creative impulse. I subscribed for news in some very interesting groups on Facebook and I can see absolutely amazing and rare photos every day. Also I have friends among re-enactors and historians, who usually help me so much. For example, I can ask "How did this pouch attach?" and get complete and professional explanations. That support is really priceless for me.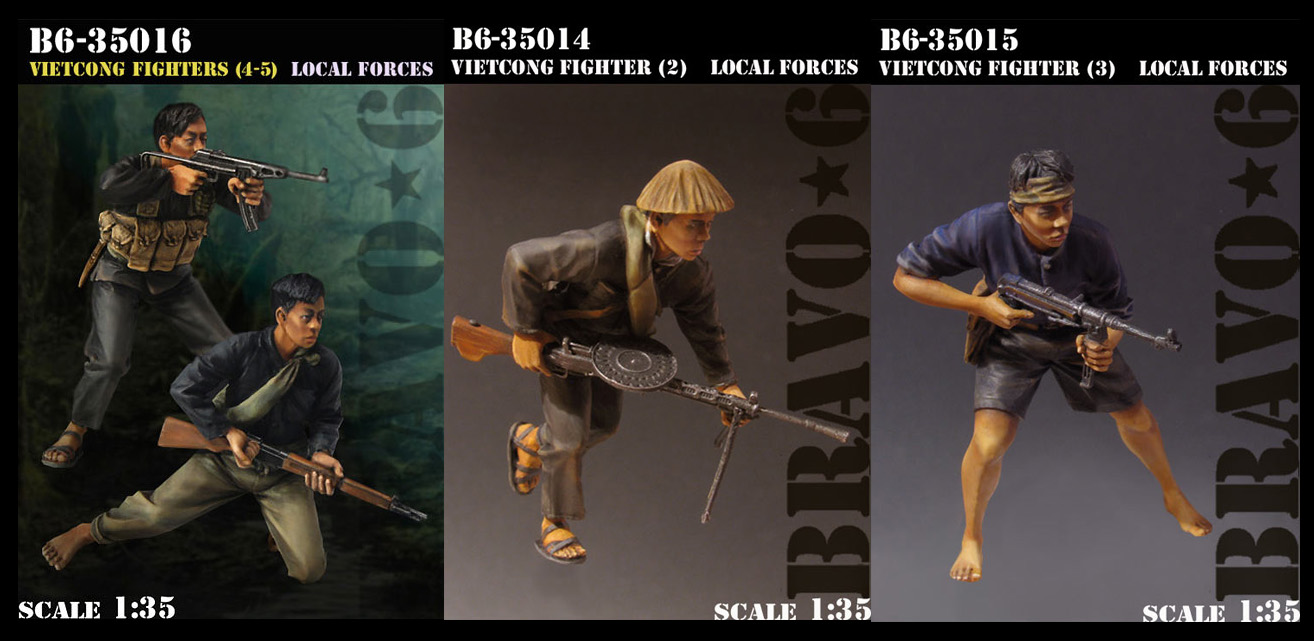 A theme rarely depicted among scale models: VC guerillas
How long does it take to sculpt and paint a figure?
I graduated from an Architectural Institute as interior designer so painting and sculpting were parts of my professional education. But, of course, art is an endless process and I try to learn and improve with every figure I make.
Usually I sculpt a figure for several days and it takes one or two more days to paint it for the box-art. I have no special tools for sculpting and prefer to work with a minimal number of simple tools. There are soft brass wire for structures, some sewing needles and toothpicks. Two-component epoxy putty is the main stuff for my jobs. The same goes for my paint job. I use paints for artists in a limited number of colors and get all the necessary color varieties by mixing. Actually, color mixing and getting shades right is my favourite stage!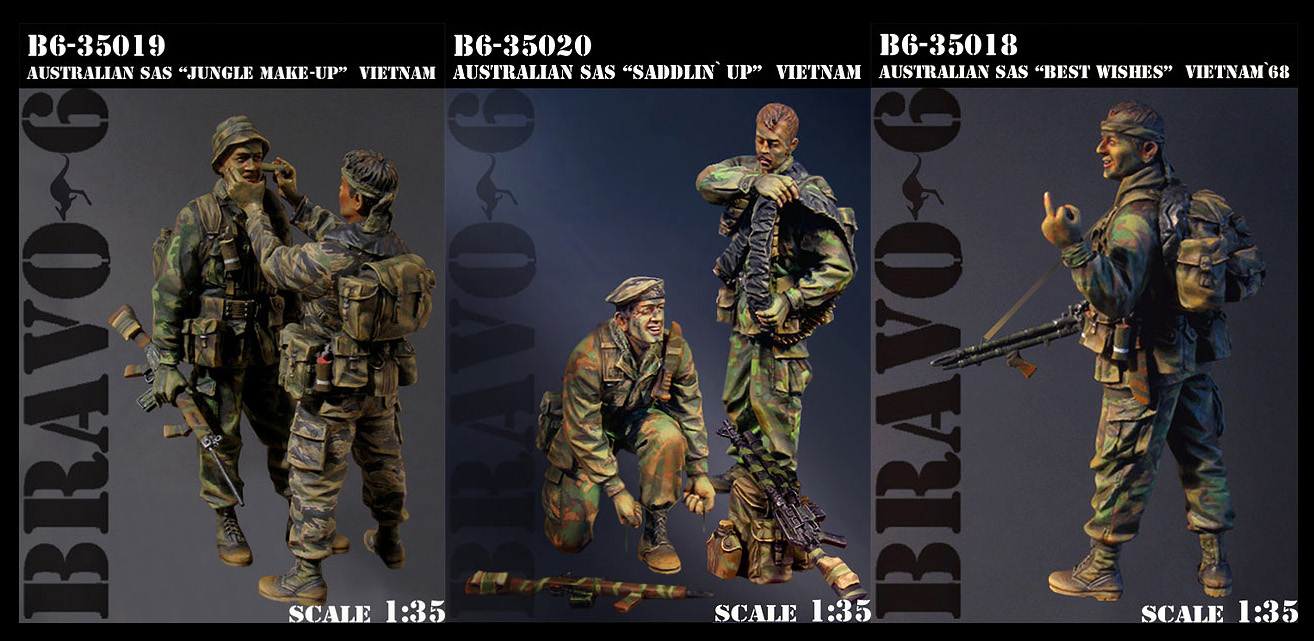 This topic, however, is even more rare: Australian SAS troopers
How did the audience respond to your products? Do you get any feedback?
I have so many letters from modelers who ask me about plans or share ideas for new kits. I want to do all of it, but generally BRAVO-6 is a "one-man-company" and I try to work fast and efficiently.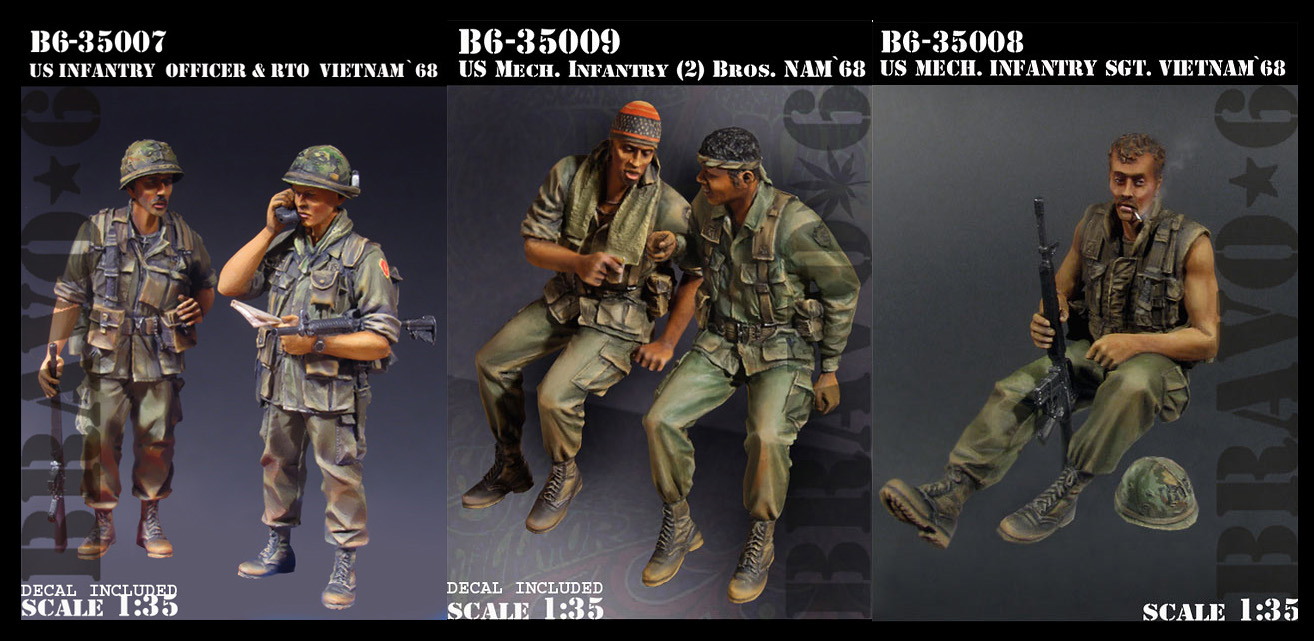 Some more familiar faces from 'Platoon'
What do you plan for the future?
Upcoming figures and themes… I know that the Nam theme is endless indeed and I'd like to expand it more and more, there are so many aspects and figures that I'd like to discover and make. Periodically I`ll turn for World War II and maybe something else. I have so many interesting ideas and sometimes I just sculpt an unplanned figure suddenly. It gives me a drop of intrigue in my regular creation. As for bigger models, I don't plan to make 1/16 figures. Simply not my cup of tea…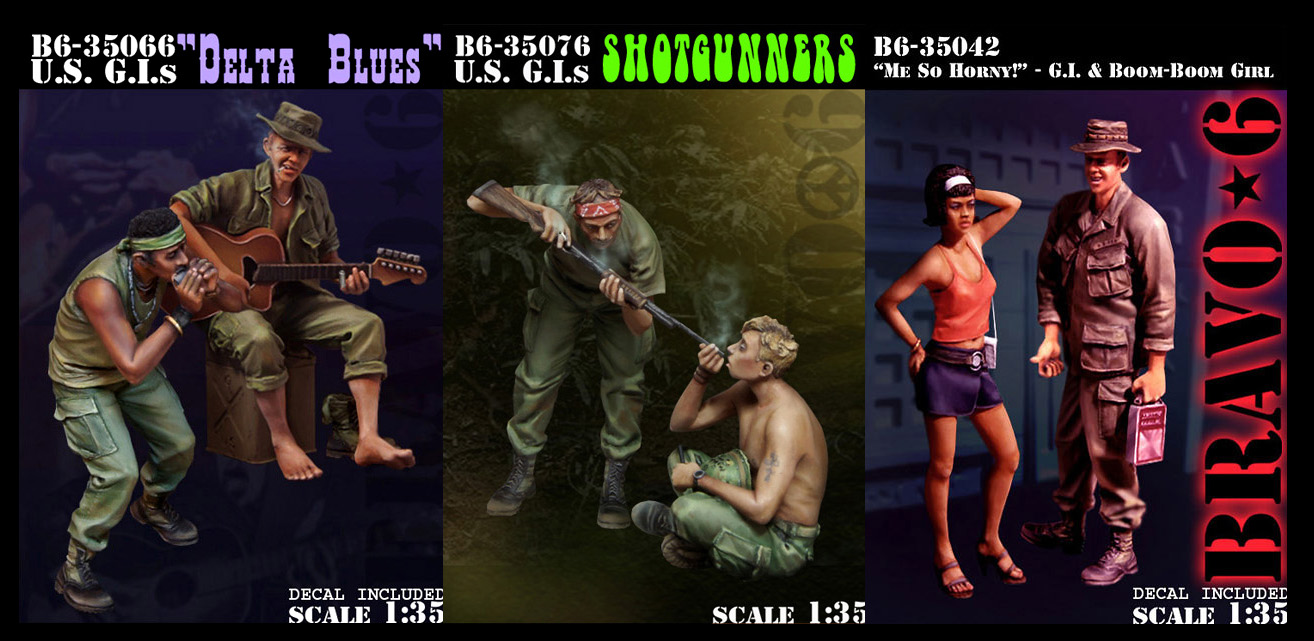 Figures for chill-out dioramas
Do you have any time left to build models of your own choosing? Do you have any other hobbies?
Sometimes, every one of us needs some rest even from a favourite job. I find this recreation in 1/144 airplanes modeling and jazz music!
Thank you for the interview and keep up the good work!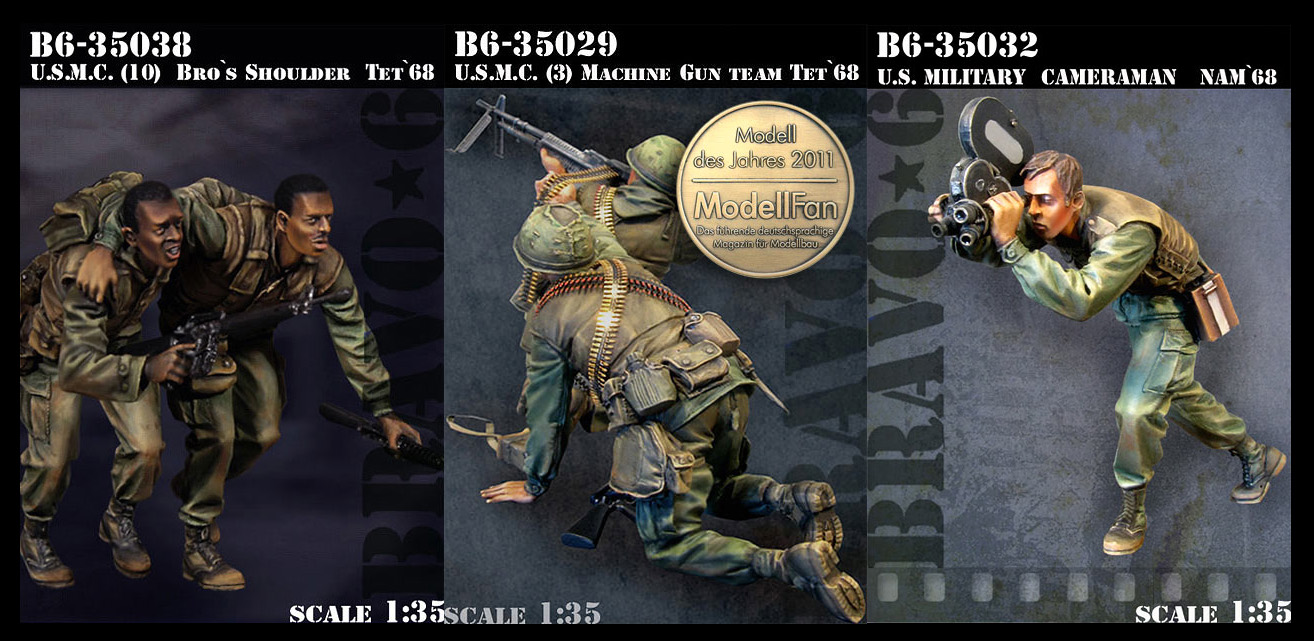 As you can see, international acclaim has come with time:
the kit on the middle received 'Model of The Year' Award
from the German magazine Modellfan in 2011
If you are interested to see the official BRAVO-6 webpage CLICK HERE.